Add Schedules and Tasks
27 Jan 2023

7 Minutes to read
Add Schedules and Tasks
Updated on 27 Jan 2023

7 Minutes to read
---

Schedules are added at any scheduling screens. The add schedules dialogue has several tabs:
Schedule: adding parameters for the shift including Client Name, Service Code, Caregiver Name, Caregiver Payroll Item, plus hours and days.
Scheduled Tasks: indicating what specific things the Caregiver should accomplish while working with the Client.
Notes: this allows you to add a note to shifts.
Wellness Questions: indicating questions that are asked of the Caregiver upon completion of the shift.
Add Other Expenses that carry to Timesheets and billing and payroll.
Video
Watch a video about adding schedules.
Watch a video about adding 24-hour shifts.
Add Shifts
To add shifts, work from top to bottom through shift details, then move to tabs as desired. In the following example, a schedule is being added for Client Evelyn Yeager for Companionship. The Caregiver is Mary Teegarden who is paid at the Hourly Rate of $11.50. The schedule begins at 8am and ends at 10am Monday, Wednesday, and Friday. This shift is using an optional Service Order and requires both Care and Wound notes.
For around-the-clock service, you do much the same. Let's say you had a client that needed a Caregiver 7a-7a Monday-Thursday. Select the Client, Service, Caregiver and Pay Rate. Pause before you add the remainder of the Schedule information.
Both Start and End Time are 7am. Generations understands that 7a-7a is a 24-hour shift.
Days of the Week should be Monday-Wednesday. The shift that begins on Wednesday at 7a ends at 7a on Thursday.
Client Details

Client Select the name of the client
Service The Service Code or bill rate associated with this shift.
Payor (Optional) Use only if a third-party payor is involved; may be required by State EVV.
Service Order (Optional) Use only if a third-party payor is involved and a Service Order (aka authorization) is in place for the Client. This displays only those Service Orders that fall within the start and end date of the proposed schedule. Service Orders may be required by State EVV.

If you select a Service Order and have a Payor assigned to the Service Order, the Payor is automatically selected.
You can also select the appropriate Payor.
"Self Pay" is the default and means the Client is paying for your services.
Please refer to the Multiple Payor Overview for additional information.
Caregiver Details

Caregiver: Select the appropriate Caregiver. If you do not know who the Caregiver will be, use Available Shift.
Payroll item and Rateindicates the Caregivers pay rate for this shift.

This list comes from Payroll Items in the Caregiver's file. The default payroll item comes in first; select the appropriate rate as appropriate.
Inactive Payroll Items are listed after active. You cannot schedule with an inactive Payroll Items.
Add Payroll Items and Rates on the fly:

Click the green plus sign
Select an item from the Payroll Items Master List
Add a pay rate.
Click save.
The newly added Payroll Item and Rate are added to the Schedule dialogue and into the Caregiver's Payroll Items tab.
Date and Time

Start and End Dates The first and last date of the schedule.
Start and End Times: Indicate start and end time of the shift by clicking on the clock, scrolling, or typing in the time.
Frequency

Weekly or Monthly Click the radio button to indicate if the schedule is weekly or monthly. Generations defaults to weekly.
Every X Weeks Click to indicate if the schedule occurs every other week, every third week, etc. Generations defaults to weekly.
All Days or M-F Click the appropriate button.
Days of the Week Put checkmarks in the box to indicate on which days of the week the schedule occurs.
Status and Alerts

Confirmed/Unconfirmed Schedules are either confirmed or unconfirmed. Confirmed means that the schedule has been worked and it is ready for billing and payroll. As a result, we recommend that you do not confirm a shift until you verify that it was worked. If you use Generations EVV, do not check this box as EVV confirms the schedule for you.
EVV Alerts For each schedule, indicate if the EVV Alerts should be enabled or disabled. If you have alerts disabled for the client in EVV settings, you cannot enable the alert on the shift.
Client QA Indicate if the Generations Client Quality Assurance prompt should be enabled or disabled for this schedule.
Add Click to add the schedule.
Cancel Click to not add the schedule.
Scheduled Tasks
Use this tab to indicate what specific things the Caregiver must accomplish while working with the Client. All available Tasks from the Tasks Master List are shown by default in alphabetical order.
Assign a Task to a Schedule by placing a checkmark in the "Assign Task" column.
Generations can assign all Tasks associated with a Plan of Care automatically by clicking "Copy Task."
You can have "required" tasks and "optional" tasks. Tasks are assumed to be required unless a checkmark is removed under the required column. If a required Tasks is not completed, you receive an alert in EVV Schedules. Required Tasks not marked completed may also require a caregiver enter a note if the agency requires. If using EVV and a required task is not complete, the system will automatically prompt the caregiver to choose from the following- Client Refused, Service Not Needed, or Not Enough Time. Optional Tasks that are not completed do not trigger an alert. Note: Caregivers can still clock out of a shift without marking off tasks. Dependent on Web Portal settings, they may first have to enter a note.
You can also see that a Task was completed, and see who most recently updated a Task. How a Task is marked completed varies office to office.
A Caregiver can use the Web Portal or Mobile App to sign into view their Schedule and mark Tasks as completed.
A Caregiver can call out via Generations EVV and indicate that Tasks were completed; EVV then marks the Tasks as completed.
Someone in your office can manually place a checkmark in the "Tasks Completed" column.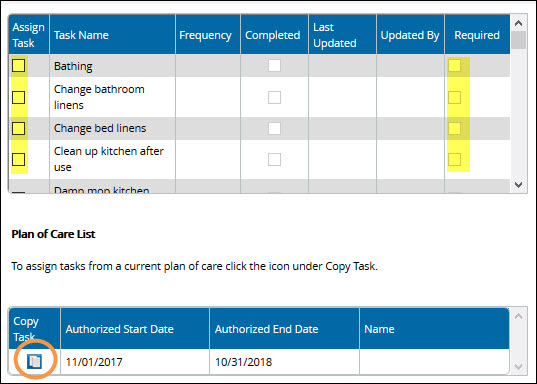 Wellness Questions
This tab helps you monitor the well-being of the Client. Adding checkmarks here causes Generations EVV to ask questions the Caregiver at the end of the shift.
Questions with a checkmark are from the Client's Wellness tab; however, all available Questions from the Wellness Questions Master List are shown
You can also see that a question was answered, and see who most recently updated a Question.
Assign a Wellness question by placing a checkmark in the column.
Generations can assign all questions from the Client's Wellness tab automatically.
Notes
A free-form text area used to add information about the shift. It is best to be brief here because these Notes can be carried into the Timesheets, onto Reports, and then onto Timesheets in QuickBooks. You can also see them in Report Writer.
Other Expenses

Use this area to add Other Expenses like mileage to the shift. Any Other Expenses added to the shift from scheduling will carry over to Timesheets, and forward into billing and payroll. Additionally, mileage imported from Generations EVV appears on this tab. If you If you need to make a change or delete the mileage imported from Generations EVV, do so here.
Click new to associate a new Other Expense to this shift.
Select the Service Code, indicate total units, and whether this item should be billed and/or paid.
Time/Task Signature
The Time/Task Signature (TTS) tab is where you can see signatures. There are no signature when you add a shift; signatures only appear after the signatures have been obtained by the Caregiver. You can:
Remove the requirements for signatures.
Notify the Client and/or Caregiver that a signature is required.
Once signed, you see the signature plus date and time the signature was completed.
Once signed, only changes to Service Code, Payroll Items, Other Expenses, and Charting are allowed - unless you remove the signatures.
If signatures are removed, the Client and/or Caregiver needs to sign again.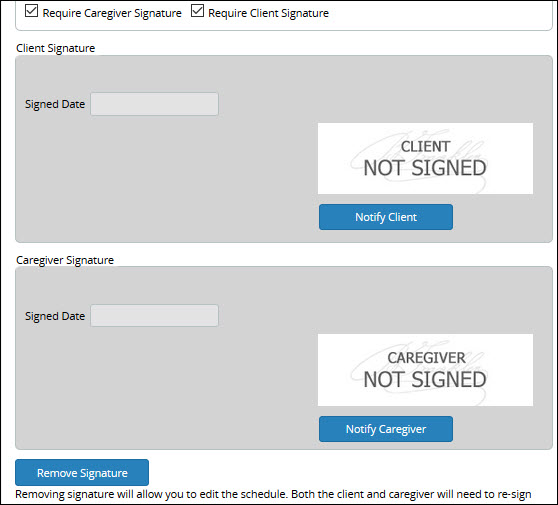 Scheduled Breaks
The scheduled breaks tab is used to add/edit when a caregiver should take a break(s) during their shift. Checking Timesheet Ready tells Generations to automatically deduct the duration of the break(s) from Timesheets for billing/payroll. To get started:
Admin > Company Settings
EVV tab
General > Other Options
Add checkmark to Enable Scheduled Breaks.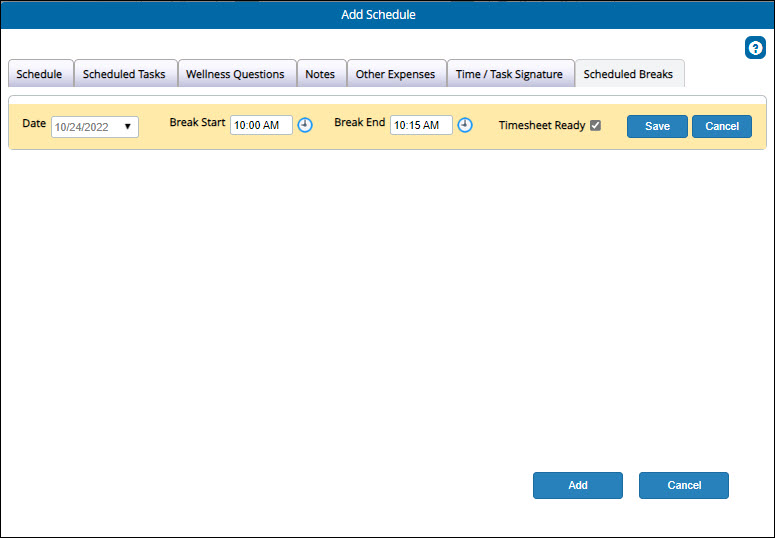 On the mobile app, Caregivers see their scheduled breaks and verify that the break was taken.
If clocking in by phone, caregivers hear break times read aloud upon login. When logging out, caregivers are prompted to verify if the break was taken.
Once a schedule is completed, office staff review the Scheduled Break tab and confirm the caregiver verified the break(s) and if they left a note. Use the Scheduled Break Report to view assigned breaks and if verified.
---
Was this article helpful?
---
---
What's Next