Applicants
08 Feb 2023

5 Minutes to read
Applicants
Updated on 08 Feb 2023

5 Minutes to read
---
An Applicant is a potential Caregiver: someone who has applied to work with your agency, but has not yet been hired.
To move an Applicant to an active Caregiver, remove the checkmark from the "applicant" box on the right side of the screen just above the photo.


Video
Watch a video about Applicants, including how to change an Applicant into an active Caregiver.
Basic Applicant Information
This section has basic information like name, status, phone, and web portal access.
Photo and Geolocation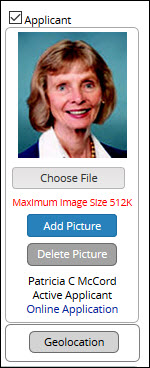 Text Messaging
Allows you to send Text Messages to Applicants and Caregivers. For a secure communication method, review the Message Center.
Address and Background
Other Tabs
The Applicant file also has these areas, which work just like they do for active Caregivers.
---
Was this article helpful?
---
---
What's Next