Cancelled Shifts
13 Jul 2022

4 Minutes to read
Cancelled Shifts
Updated on 13 Jul 2022

4 Minutes to read
---
In Generations you mark a shift as cancelled, give a reason for the cancellation, indicate the action taken as a result of the cancellation, and report accurately on lost revenue as a result of cancellations. You complete the master lists of cancel reasons and actions. Cancelled shifts do not go to Timesheets.
This topic covers:
Video
Learn how to cancel a shift.
Cancel Schedules Master Lists
When cancelling a shift, a reason and the action you took to resolve the situation must be added. Cancelled Shift Reason and Cancelled Shift Actions are two separate master lists. Both are found under the Schedule menu at the top of the Home screen.
Cancel A Schedule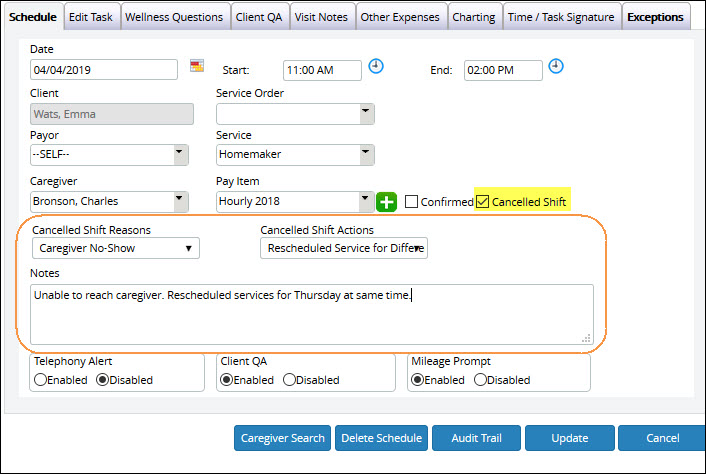 Let's say a caregiver does not show up for a shift.
Edit the schedule
Decide if you are changing the shift to Available, or leaving the Caregiver on the shift.
Put a checkmark in Cancelled shift
Select a cancelled shift reason. This is a Master List that you can customize. The example below is caregiver no show.
Select a cancelled shift action. This is a Master List that you can customize. The example below is rescheduled service for different day.
If you wish, add a note to further explain why the shift was cancelled.
Click update and the cancellation is saved. The shift turns pink.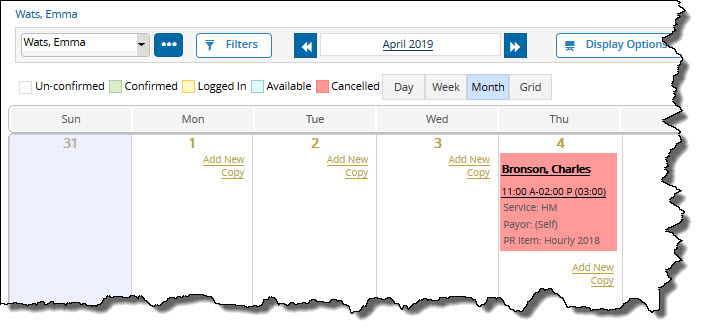 You can also cancel shifts directly from the Interruption of Service in a Client's file.
Depending on your office cancellation procedures, you may also need to document further in the Call Center, Client Notes, or Caregiver Notes.
When A Shift Is Cancelled
The schedule turns pink.
An app notification is sent to the Caregiver, Client, and Client's Contact. The message reads "Scheduled visit (5/6/2019 9am-5pm) has been cancelled."
Cancelled shifts do not go to Timesheets. If a schedule is cancelled and a timesheet already exists, the timesheet is removed unless it has been billed or paid. If a schedule is cancelled and a timesheet does not exist, a timesheet is not created.
View Cancelled Visits Lost Revenue
To see a report of lost revenue due to cancelled shifts, use the projected billing report. Add a checkmark into "Cancelled Shifts Only," select parameters, and click OK.
Reports
Cancelled Shifts Report
Projected Billing Report has cancelled shift options
Many scheduling reports have an option to include cancelled shifts.
Previous Methods of Cancelling Schedules
As of May 2019, these methods are no longer needed. If your agency is using these, please consider using the updated cancellation method described above. If you are using method two below, we recommend inactivating the Service Codes and Payroll Items associated with cancelling shifts.
Remove The Schedule
Works best from the Client Interruption of Service (or Caregiver Absences.)
No advance setup of Service Codes or Payroll Items required.
No reporting on lost revenue.
For example, if Mrs. Jones does not need service the third week of March because she's going out of town with family, you will do the following:
Add a Note in the Call Center.
Add a Client Interruption of Service with Reason. This deletes the shifts for you and adds a blue bar on Schedules. Now everyone who looks at the schedule knows there's an Interruption of Service for the given time period.
Notify the Caregiver(s.)
Alternatively, delete the schedule then add the interruption.
If a Caregiver calls off, do not add a Client Interruption of Service; instead, add a Caregiver Absence which changes the existing caregiver to Available Shift. Then find and fill the shift.
Do Not Remove The Schedule
More work up front, but allows reporting of lost revenue
Requires advance setup including Service Code, Payroll Item, and Caregiver.
Works with Client Interruption of Service
Can work for both Client cancellations and Caregiver call offs.
Let's look at the same scenario: Mrs. Jones does not need service the third week of March. With the "do not remove schedule" approach, you need the following things established before Mrs. Jones calls the office:
A Client Note Type called Client Cancelled Shift or similar.
A Service Code called client cancelled shift. Give it a $0 dollar rate because you are not charging the client for the cancelled shift.
A Payroll Item called client cancelled shift on the Payroll Items Master List.
A Caregiver called Client Cancelled Shift. Assign this Caregiver a payroll item Client Cancelled Chift the pay rate of $0. Put a checkmark in default.
With these items set up, when Mrs. Jones calls, you:
Add a Note in the Call Center using that Client Cancelled Shift Note Type.
Notify the Caregiver that the shift has been cancelled.
Add a Client Interruption of Service, but do NOT delete the shifts.
Change the original shifts to include:

Service code = client cancelled shift $0
Caregiver = client cancelled shift
Payroll Item and Rate = Client Cancelled Shift $0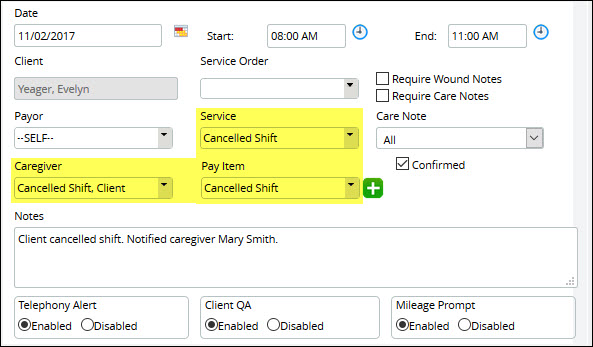 Under this scenario, if a Caregiver calls off, you follow the same basic steps: Add a separate Payroll Item and rate called "Caregiver Called Off." And, of course, be sure to add an Absence for the Caregiver.
Other considerations when not removing the schedule.
Confirming the shifts is optional. If you leave the shifts Unconfirmed, they do not appear on billing or payroll reports, and may be less confusing for a Client or Caregiver.
If your agency has a cancellation fee, you can change the Service Code on the shift to the appropriate cancellation fee Service Code. This method works best with a flat rate service code for cancellation. Additionally, if you Confirm the shift and process as normal, the cancellation fee will be on Timesheet and billing reports, plus any invoices.
---
Was this article helpful?
---
What's Next