Care Plan Naming/Visibility
29 Nov 2022

1 Minute to read
Care Plan Naming/Visibility
Updated on 29 Nov 2022

1 Minute to read
---
In addition to adding custom fields onto the care plan tab of the private duty care plan, you can customize the tab names for private duty care plan, 485 Start and tasks. In addition, you can hide tabs within the customized care plan that are not applicable to your agency needs.
NOTE:
Altering the Care Plan format is a global setting and changes the format of existing Care Plans.
We strongly recommend you do not change the original. Instead, copy that original and give it a new name or click +New and design a new Care Plan.
Best practice is to export the existing Care Plan to PDF then attach to the client in the Care Plan area (not the attachments area.) By doing this, the Care Plan remains accessible to all on the Care Plan tab.
If you have a large number of existing care plans, we can convert them to PDF attachments for you. Please email support@idb-sys.com for additional information.
Customizing
Customizing occurs in Admin > Company Settings > Company Information. In the lower right corner, click on Care Plan Naming/Visibility.
Customized Name:
Default tab names are listed below. Adding a customized tab name will change the name office users, caregivers and clients see when viewing the customized care plan.
485* Start
Plan of Care (485)
Tasks
Click the yellow pencil to the left of each default name. That will then allow you to enter a customized name. Make sure the box is checked under Use Customized Name. Click "OK" when finished to save changes.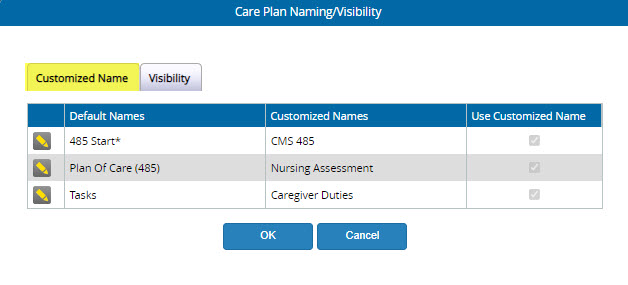 Visibility:
Uncheck the box to the left of each tab that your agency wishes to hide when viewing a care plan. This will hide the tab for office users, caregivers and clients regardless if information has been added to these areas. Click "OK" when finished to save changes.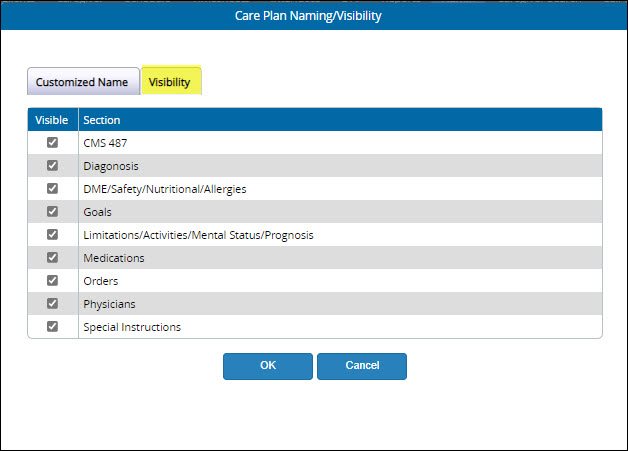 Review Your Customized Care Plan
Open a Client's file and browse to the Plan of Care tab. Click New or/and select the Care Plan. View the customization.
---
Was this article helpful?
---
What's Next