Care Notes Step-By-Step
21 Feb 2023

4 Minutes to read
Care Notes Step-By-Step
Updated on 21 Feb 2023

4 Minutes to read
---
A way to paint a complete clinical picture of the Client for every single visit, Care Notes are where field staff document care coordination, progress towards goals, and so on.
You can have multiple Care Notes covering different aspects of care; for example, you might have an ADL assessment, companion care notes, home safety evaluation, pediatric evaluation, and a skilled nursing note.
If you have a paper-based document that requires a Caregiver and/or Client signature, it might work as a Care Note.
Because they use similar features, much that you learn about Care Notes can be applied to Wound Notes as they use similar screens.

The steps to working with Care Notes are:
Design the Care Note.
Establish Limits.
Set permissions.
Look at the Charting tab in schedules.
Caregiver and Client app.
Review the Care Notes.
Reports.
This educational PDF gives a high-level overview of the benefits of using Care Notes. Click the two arrows in the upper-right corner to print or download.
Video
Watch a short training video about Care Notes.
Design the Care Note
If your agency does skilled nursing, you can create a skilled nursing note. Browse to Company Settings, Company Information. Click the "Design Care Note Button."
Click new.
Add a title.
Add instructions.
Add categories.
Add signs and symptoms.
To see what the note will look like on the app, create a Client and Caregiver you use specifically for testing. Give permissions in the client file, require a Care Note via a schedule, log into the schedule, and view the Care Note.
Name the Care Note and Add Categories
Click new and add a title into the top box. This is how the Care Note is identified. This name cannot be changed. Save the note.
Add instructions for the caregiver on how to complete the care note.
Add a description/category. For example, a skilled nursing note might include vital signs, pain assessment, shift/visit notes, progress, education. Each description has signs and symptoms.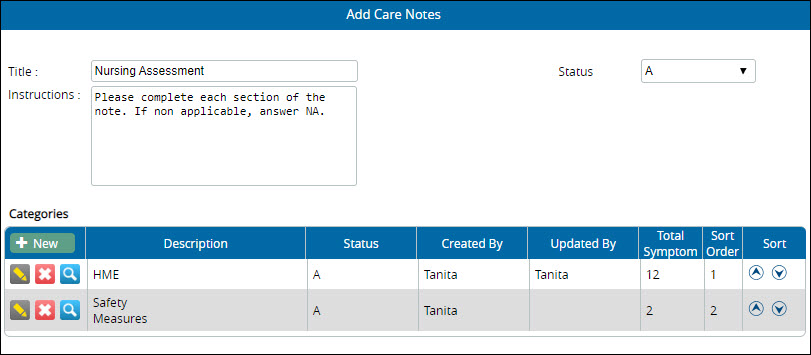 Add signs and symptoms
Each description/category has signs/symptoms and data type. For example, the signs/symptom might be "temperature" and the data type would be numeric. On the other hand, if the sign/symptom is "shift/visit notes," the data type would be text to allow for written documentation.
Use arrows to adjust sort order.
Click save.
Click save again and the Care Note is available for use with any Client.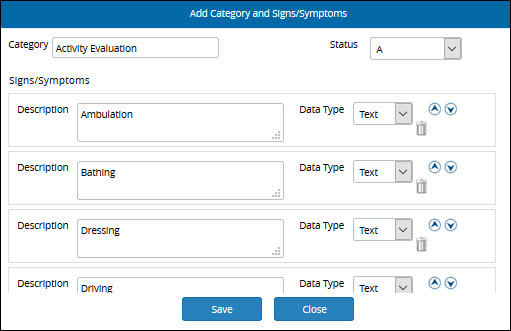 Company Settings Web Portal
While you're in Company Settings, click on the Web Portal tab. In the Caregiver section, select the number of days the Caregiver has to complete the Care and/or Wound Notes after the visit is completed.
Client Charting Tab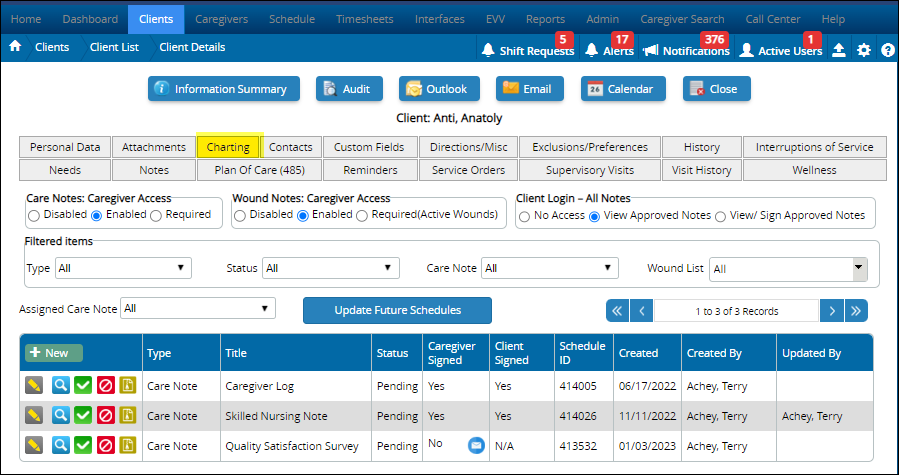 In the Client's file, establish Care and Wound Note permissions.
Shows all Care or Wound Notes associated with the Client.
Enable, disable, or require Care or Wound Notes.
Allow clients to view or sign approved notes.
Update future schedules with the note.
Note Permissions

Give Permission To
Give Permission For
Options

Caregiver

Care Notes

Disabled (no access)
Enabled
Required. Selecting this means that a Care Note is required for every shift with this Client.

Caregiver

Wound Notes

Disabled (No Access)
Enabled
Required (Active Wounds) Selecting this means that a Wound Note is required for every shift with this Client. If required, the Caregiver must update all active Wound Notes for the Client and create a new Wound Note.

Client

Both Care and Wound Notes

No Access.
View Approved Notes - the Client can only view approved notes.
View and Sign Approved Notes - the Client must both view and sign approved notes.
Note Filtering

This area allows you to filter the existing notes by
Item
Action
Type
Care or Wound
Status
Approved, Denied, Pending, or Archived.

Archived Care Notes only show when Archived is selected in the Status list.
Archive a Care Note by clicking on the square yellow icon.
To unarchive a Care Note, change status to Archived and click the square green icon.

Care Note
Select a specific Care Note.
Wound Note
Select a specific Wound Note.
Note Selection
This dropdown allows you to select the Care Note that is most appropriate for this Client. Remember, your agency can have multiple Care Notes, and those can be selected in schedules. You can also update all future schedules with the selected Care Note.

Charting Information
Shows this client's charting history and the status of Care and Wound Notes. This same information is also visible on:
In schedules on Specific shifts after the signatures are approved.
In the Charting Management screen
In EVV Schedules when you edit the shift.

The Charting Tab on Schedules
If you have checked "require" when giving permissions, those boxes will already be checked for you in scheduling. You can remove these checkmarks on schedules as required. As noted above, after signatures are approved, there is also charting tab.

Caregiver and Client Apps
Find "Signatures Required" on the main menu or within shift details.
Caregivers are prompted to sign once they have logged out of their shift.
After the Caregiver signs, they are asked if the Client is available to sign (and this only happens when the Client is required to sign.)
If Client signature is required for TTS, the Client can view tasks - regardless of Web Portal settings.
From today's schedule, the Caregiver taps to add a new Care Note.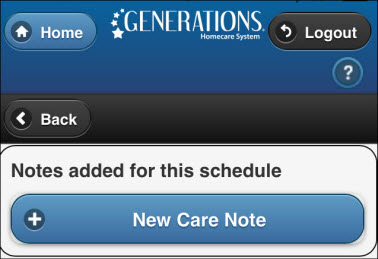 The Caregiver taps to open the Care Note, taps again to fill information into the form.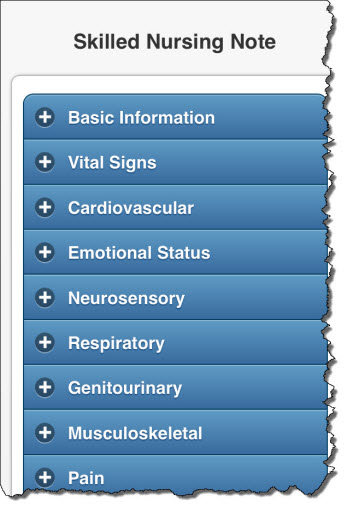 Charting Management
Found under the Schedules list at the top of the Home Screen, Charting Management is a central location to view all Care and Wound Notes. It is where you:
Review Care and Wound Notes.
See the status of the caregiver and client signatures, and whether or not the client is required to sign.
See if there is a missing Care or Wound Note for any shift.
If there is further action required by the Caregiver or Client, notify them via email and/or app notification.
Reports
Charting Report
Wound Summary Report
---
Was this article helpful?
---
---
What's Next