Client List
17 May 2022

1 Minute to read
Client List
Updated on 17 May 2022

1 Minute to read
---
This is where your Clients are listed and where you perform intakes. Find the Client list by clicking on the Client icon on the Home screen or selecting Client list on the Client menu at the top of the Home screen.
The list works kind of like an Excel spreadsheet and can be sorted extensively and adjusted so that you see the data you wish to see.
For example, you can add/remove columns using the column chooser or click on a column header to sort by that column.
To open a file, click on the name of the Client or on the yellow pencil to the left of their name.
To add a new Client, click on the green +New button in the upper left of the list.
Video
Watch a video about the Client List.
Buttons


New
Click to add a new Client
Edit
Click the yellow pencil or the Client's name to open their file.
Delete
Click the red X to delete the Client's file. You must inactivate first, then click delete.
Inactivate
Click the grey figure to make a Client inactive. You may also wish to take additional steps inside the Client's file before you inactivate here; see our recommended best practice for inactivating Clients.
Schedule
Click to open the Client's schedule. You can also access the schedule from any scheduling area.
Toolbar

Column Chooser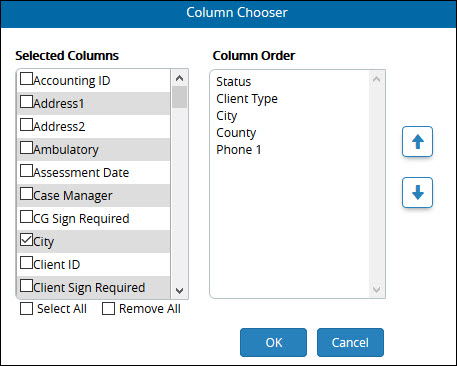 Outlook
Interfaces with Microsoft Outlook for sending emails and adding individuals to the Outlooks Contacts list.
Custom Filter and Remove Filter

Custom Filter is a powerful search..
Click Custom Filter
In the "for" area, type what you are searching for.
Then select other options as desired: include a variety of areas, include all caregivers or only one, or include all common fields versus one specific field.
Click OK.
The results display in the Caregiver List.
To remove the filter, click the "Remove Filter" button. The Custom Filter stays in place until you click the Remove Filter button.
Export
Allows you to export the Client list to Microsoft Excel
Font Increase/Decrease
Increase or decrease the font size as desired.
Search
Used to search for any text within all Client files. Search results display as a list.
Type
Move between all Clients, active Clients, potential Clients, and inactive Clients. The default is active.
1 to 100 of 295 Records
Click the arrows to move through your list of Clients.
---
Was this article helpful?
---
---
What's Next