Communication Overview
02 Jun 2023

1 Minute to read
Communication Overview
Updated on 02 Jun 2023

1 Minute to read
---
To help with communication between an agency and its caregivers and clients, Generations offers several messaging tools.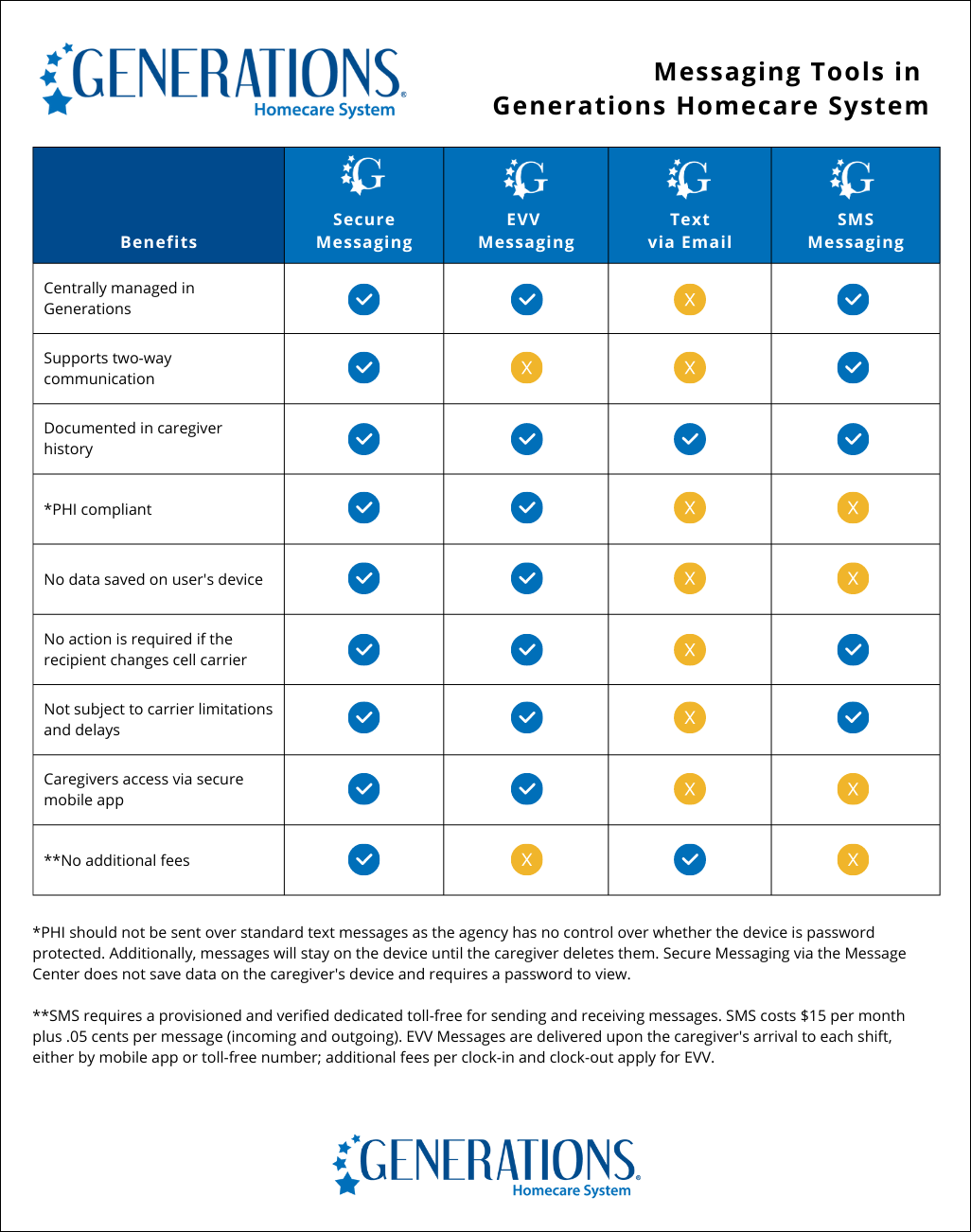 Message Center
The Message Center is a secure way to communicate with Caregivers that is designed to replace email and text messaging. Using the Message Center ensures that all information stays securely in Generations and helps your agency stay HIPAA compliant.
Can be used with SMS (Text) enabled
For Email to Text, the Caregiver receives a text notification to check messages in the Message Center on the mobile app.
EVV Messaging
EVV Messaging can be used in addition to or as an alternative to the Message Center, SMS, or Text via Email.
Can be used with Message Center, SMS, and Email to Text.
Caregiver reads the message on the app or hears the message on the phone. Agency can tell that message was delivered.
SMS (Text)
Sending SMS to caregivers is a communication alternative to using the Message Center, although is not considered secure. SMS stands for Short Message Service and is commonly known as texting.
Can be used with the Message Center enabled. If SMS(Text) is enabled, an agency cannot use Text via Email.
As part of setup, we handle the A2P 10DLC registration.
Text via Email
Text via Email, unlike SMS(Text) option, uses an API that works by accepting emails sent to a specific email address (for example, xxxxxxxxxx@txt.att.net). It then transforms them into an SMS(text) compatible format to where the message can be pushed out to the intended recipient.
Can be used with the Message Center enabled.
---
Was this article helpful?
---
What's Next