Custom Fields
27 Feb 2023

2 Minutes to read
Custom Fields
Updated on 27 Feb 2023

2 Minutes to read
---
The Custom Fields Master List is for things that you want to track that don't already have place in Generations. This the place for things like additional phone number, second case manager, allowed to drive, blood type, cell phone, discharge date, living will/location, hospital preference, position applied for, and more.
Use items from this master list in on the Custom Fields tab in either Client or Caregiver file.
You can have an unlimited number of Custom Fields.
Custom Fields can be displayed using the Column Chooser in the Client and Caregiver Lists.
Custom Fields can be used with Report Writer.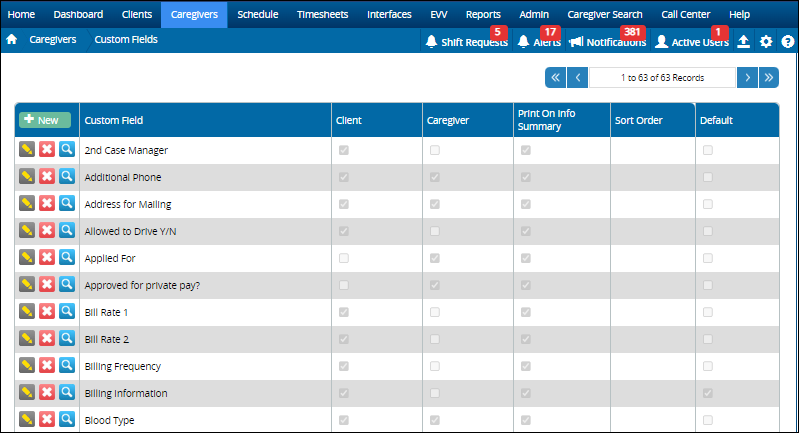 Video
Buttons
+New: Click to add a new Custom Field.
Yellow Pencil: Click to edit an existing Custom Field.
Red X: Click to delete a Custom Field. You cannot delete a Custom Field if it is assigned to a Client or Caregiver.
1 to 63 of 63 Records: Click the arrows to move through the list.
Examples
Here are examples of Custom Fields that we have seen used by agencies.
For Caregivers
additional phoned
declined insurance
department
emergency contact
gave uniform/shirt
ID number
mailing address
maximum hours
Quit-first time
returned-first time
scrubs verified
supervisor
withholding allowance
For Clients
2nd Case Manager
additional phone
Allowed to drive Y/N
blood type
file number
firearms in the home
hospital preference
legally authorized rep
living will/location
Medicaid copay
native or preferred language
pet name
pharmacy of choice
responsible party
spouse name
supervisor
waitlist
wedding anniversary
Add A Custom Field To The Master List

Click the Client or Caregiver list at the top of the Home screen.
Select Custom Field.
Click the +New button.
Enter the item in the Custom Field area.
If this item should be visible in the Client's file, add a checkmark to Client.
If this should be visible in the Caregiver's file, add a checkmark to Caregiver.
If you want this to print on the Information Summary report for the Client/Caregiver, add a checkmark in Print on Info Summary.
Sort Order (optional.) By default the fields sort alphabetically. If you want them sorted in a custom order, enter a number in the sort order field. If you do not enter number in some of the Custom Fields, those without numbers sort first. If you enter the same number in more than one field, then the system will sort secondary by alpha.
If you want the field to automatically appear in each new Client or Caregiver, add a checkmark in the default checkbox.
Click update.
Custom Fields in Clients and Caregivers
On Client And Caregiver Lists
Show Custom Fields on the Client and Caregiver lists as desired:
Click the Column Chooser button.
Add a checkmark next to the Custom Field you want displayed in the list.
Use the arrows on the right to arrange your preferred order.
Click OK.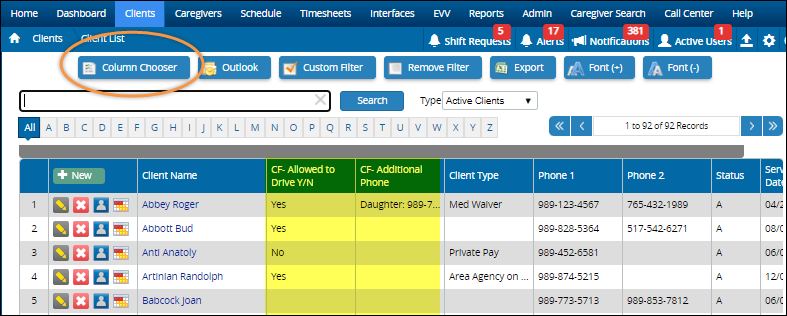 In Client And Caregiver Files
Open a specific person's file.
Click on Custom Fields.
Click +New to add a Custom Field.
Select the Custom Field from the list.
Add additional words in the description

Custom Fields in Report Writer
Much like in the Client and Caregiver lists, you can use Custom Fields in Report Writer. Report Writer allows you to create reports that are currently not available in the formatted reports.
---
Was this article helpful?
---
---
What's Next