Other Expenses
23 May 2022

1 Minute to read
Other Expenses
Updated on 23 May 2022

1 Minute to read
---
Other Expenses are services you bill the Client for that are not scheduled.
Other Expenses are maintained in the Service Code Master List.
Examples of Other Expenses: agency fee, bonus, gas reimbursement, initial client deposit, mileage, parking, and supplies.
Other Expenses are entered on a shift, in Edit Timesheets, or imported directly from Generations EVV.
Other Expenses display on billing and payroll reports. Additionally, in the reports area, there are two reports that list Other Expenses:
Other Expenses by Client is listed under Billing Reports
Other Expenses by Caregiver is listed under Timesheet/Payroll Reports.
Note
Other Expenses can be added to an Invoice in QuickBooks. However, due to limitations imposed by QuickBooks, you cannot add Other Expenses to Timesheets in QuickBooks.
Travel Time is not an Other Expense. Please refer to the Travel Time documentation to learn more.
Add An Other Expense
Other Expenses are added to the Service Code Master List. Be sure the type is "Other Charge."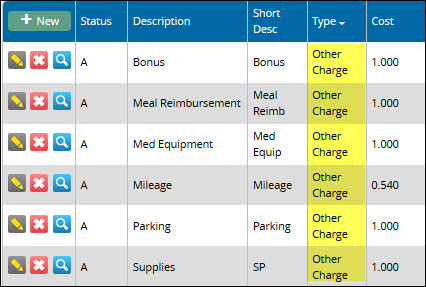 Linking Other Expenses To QuickBooks
Because these are Other Expenses, you cannot link them directly to an income account in QuickBooks. We recommend:
Establish a link between the Other Expense Item and an expense account.
Browse to your QuickBooks Items List and find the item you just linked.
Change the account to an appropriate income account.
Add Other Expenses To Schedules
If you're familiar with how to add Other Expenses in Edit Timesheets, this tab functions in a similar manner. Any Other Expenses added to the shift from scheduling will carry over to Timesheets, and forward into billing and payroll.
Click new to associate a new Other Expense to this shift.
Select the Service Code, indicate total units, and whether this item should be billed and/or paid.
Edit Timesheets
In Edit Timesheets, select the Other Expenses tab to add items in to be added to invoices in QuickBooks.
You can indicate whether an item is billable, payable, or both.
If mileage is imported from Generations EVV, make changes or delete on the Schedules.
If you add an Other Expense in Edit Timesheets, it does not appear on Schedules.

---
Was this article helpful?
---
---
What's Next