Transfer Invoices To QuickBooks
10 Jan 2023

3 Minutes to read
Transfer Invoices To QuickBooks
Updated on 10 Jan 2023

3 Minutes to read
---
Transfer Invoices to QuickBooks is performed in the Generations Interface for QuickBooks. This pushes your billing information to QuickBooks and create invoices that you can send to Clients.
NOTE
To be able to create invoices, you must have Timesheets for the time period. We strongly recommend you review Billing and Payroll Detail to fully understand the process.
Mileage and similar Other Expenses are entered in Edit Timesheets.
Video
Watch a video about transferring invoices to QuickBooks.
Company Settings
To determine the format Generations uses when creating invoices in QuickBooks, browse to Company Settings, QuickBooks tab.
Review the Invoice Line Item Descriptions and decide which is appropriate for your company; the most popular choice seems to be "Date, Service, Caregiver, Shift."
This typically only needs to be done one time.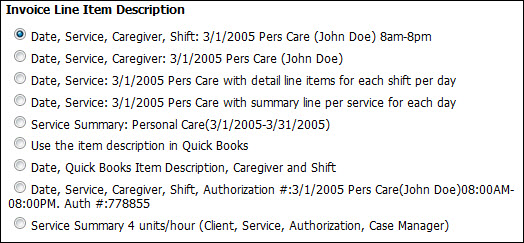 Create Invoices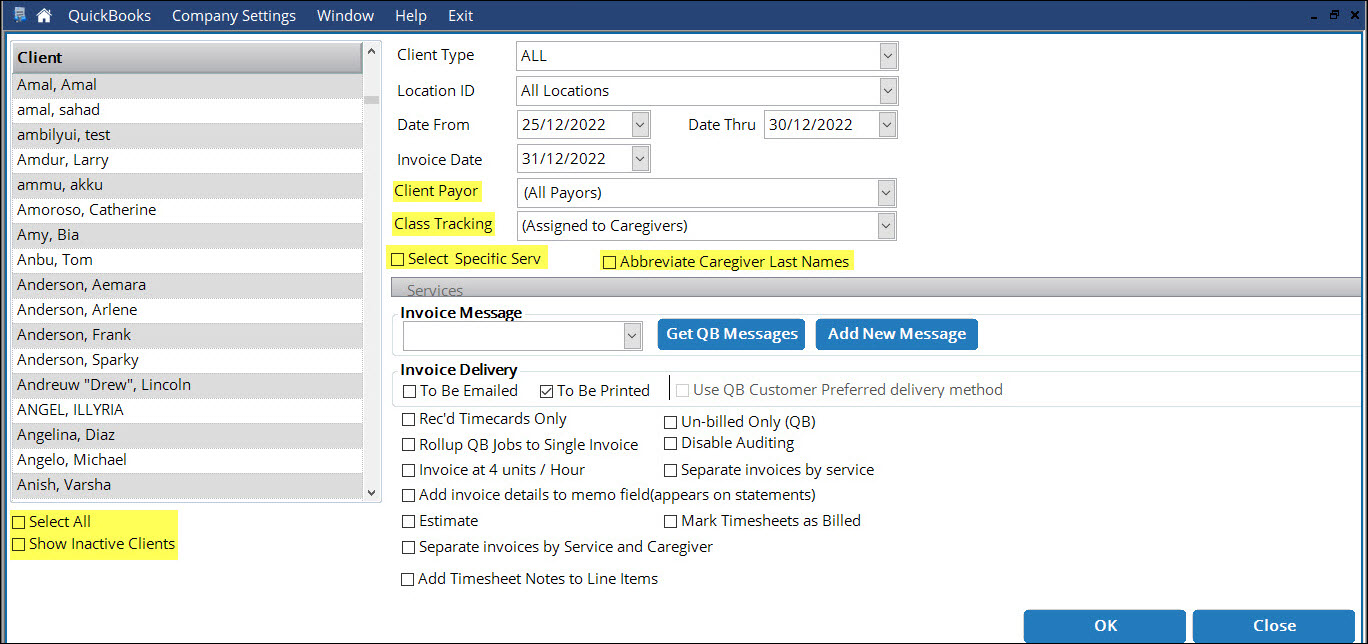 Options
Parameter
Description
Client Type
The Client Type Master List which is useful for grouping Clients for billing purposes.
Location

Refers to the Location Master List and is typically used when there are multiple offices to indicate which office a Client is associated with.

Date From and Thru

The dates to include in this billing.

Payor

Select the Payor you wish to create Invoices for.

Invoice Date
The date that the invoice is generated. You can generate an invoice today, or for the past or future.
Class Tracking

Refers to the Class Master List in Generations and Class Tracking in QuickBooks; this is only utilized if you have Class Tracking enabled in QuickBooks. The options are:

Assigned to Caregivers This is the default and uses the Class assigned to your Caregivers in Generations.
Location ID Assigned to Clients Uses the Location ID assigned to Clients. Selecting this option allows you to run reports in QuickBooks by the Client or by where the service was performed.
Select one Class This option is good if you are transferring invoices for a specific office.

Select Specific Services

Allows you to only bill for specific service codes.

Abbreviate Caregiver Last Names

Abbreviates the Caregiver's last names on invoices.

Add an invoice message

Allows you to add a message to invoices. You can also "Get QuickBooks Messages" and "Add New Message."

Rec'd Timecards Only

This refers to the optional Received Timesheets box in Edit Timesheets. If you place a checkmark here, only Timesheets marked as Received transfer.

Rollup QB jobs to Single Invoice

If your clients are set up as jobs in QuickBooks, this option rolls them up to one invoice. Useful if your agency provides service to many Clients at a facility and then sends one bill to the facility versus sending bills to individual Clients.

Add invoice details to memo field (appears on Statements)

When running Statements in QuickBooks, this option will add the invoice details into the Memo field.

To Be Emailed

Checks a box on the invoice for you to allow the invoice to be emailed.

To be Printed

Checks a box on the invoice for you to allow the invoice to be printed

Use QB Customer Preferred Delivery Method

If checked, Generations will query the Preferred Delivery Method setup in QuickBooks and then use that method on the invoices.

Estimate

Creates an Estimate in QuickBooks.

Unbilled Only (QB)

Checked by default to ensure you don't double bill a Client. When you create invoices, the Timesheets for those invoice are marked as billed in Edit Timesheets.

Disable auditing

This is used for troubleshooting by Generations support technicians.

Separate Invoices by Service
Creates a separate invoice per service.
Separate Invoices by Service and Caregiver
Creates a separate invoice per service and per caregiver.
Mark Timesheets as Billed
Checked by default. Will mark visits as billed in Edit Timesheets.
Add Timesheet Notes to Line Items
Checking the box will add schedule notes to the invoice line items
Steps
Open the Generations Interface for QuickBooks and select Transfer Invoices to QuickBooks
Select Clients. Use your control and shift keys to select multiple people. Note that at the bottom of the screen you can also "Show Inactive" client(A patient or care-recipient), "Select All," and "Clear Selection."
Set other parameters as desired
Click OK and auditing begins. To ensure an accurate transfer of data, the interface verifies that the following items are in your QuickBooks company file: Service Codes, Clients, Caregivers, and any other information being transferred. You may receive a pop-up to add items and/or a report of items that need to be fixed to ensure a successful transfer of data.
Data for invoices is transferred to QuickBooks and invoices are created. Timesheets in Generations for the Date From and Thru are marked as Billed. Review the invoices in QuickBooks and process according to your agency's procedures; terms default to the terms defined in each customer's information within QuickBooks.
---
Was this article helpful?
---
What's Next