Transfer Timesheets or Bills To QuickBooks
13 Jul 2022

3 Minutes to read
Transfer Timesheets or Bills To QuickBooks
Updated on 13 Jul 2022

3 Minutes to read
---
Transfer Timesheets and/or Bills occurs in the Generations Interface for QuickBooks. Generations supports employees, independent contractors, or a mixture of both in the same company file.
For employees, Generations transfers Timesheets to QuickBooks.
For vendors, Generations can transfer the Timesheet or create bills in QuickBooks; we strongly recommend creating bills because it is faster and more flexible.

NOTE
To be able to send payroll information to QuickBooks, you must have Timesheets for the time period. We strongly recommend you review Billing and Payroll Detail to fully understand the process.
Mileage and similar Other Expenses are entered in Edit Timesheets.
Generations can automatically add both overtime and holiday items and rates in QuickBooks for you.
Holiday rates are optional; refer to the Holiday Master List for further information.
Overtime is calculated at over 40 hours per week by checking this option in Company Settings-Other Options. Generations calculates the correct rate based on the base rate of the item.
Video
Watch a video about transferring timesheets to QuickBooks.
Company Settings
If you have not already, review Company Settings > QuickBooks screen.

If you have employees:
Review the Timesheet Notes in QuickBooks area. This gives you flexibility to add Caregiver's shift information to the Notes area, to transfer Generations Timesheet notes to that area, or to simply leave the area blank.
If you have vendors/independent contractors:
Select the GL (General Ledger) account for payables, expenses, and other expenses
Select how you wish new vendors to be added to QuickBooks.
Timesheets To QuickBooks Screen
This screen looks slightly different depending if you are working with employees or vendors (independent contractors/1099.)
Employees

Independent Contractors
Note that when transferring bills for vendors/independent contractors, you can add a Due Date for the bill.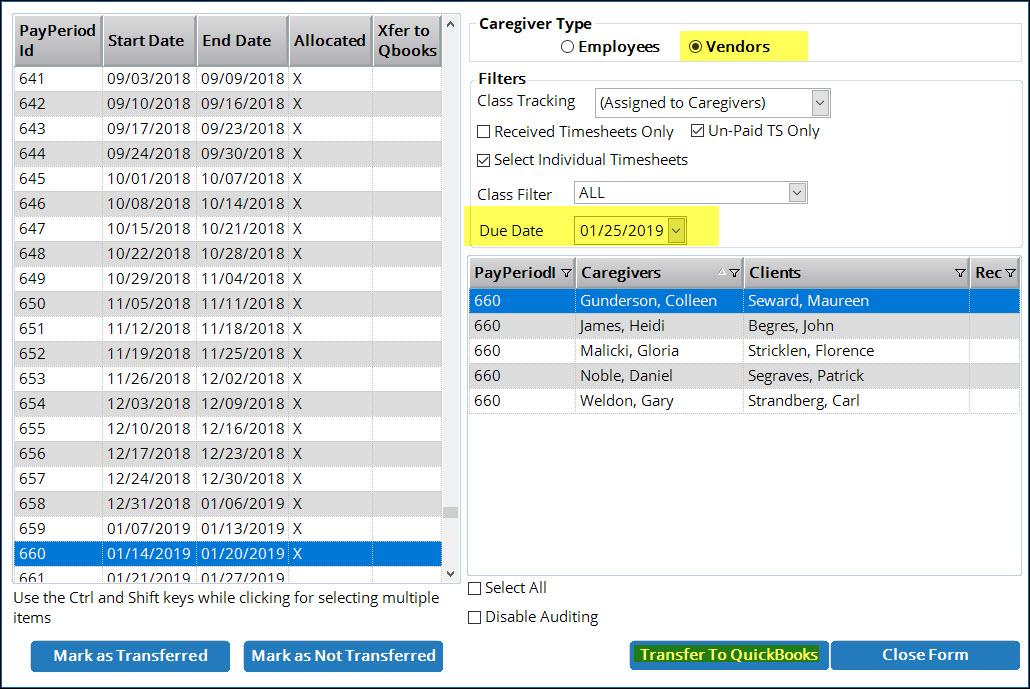 Options
Parameter
Description
Caregiver Type


Class Tracking

Refers to the Class Master List in Generations and Class Tracking in QuickBooks; this is only utilized if you have Class Tracking enabled in QuickBooks. The options are:

Assigned to Caregivers: This is the default and uses the Class assigned to your Caregivers in Generations.
Location ID Assigned to Clients: Uses the Location ID assigned to Clients. Selecting this option allows you to run reports in QuickBooks by the Client( A patient or care-recipient) or by where the service was performed.
Select one Class: This option is good if you are transferring invoices for a specific office.

Due Date

Only available when working with Vendors/Independent Contractors, this option allows you to assign a bill due date. The due date appears on the bottom of the bill.

Received Timesheets Only

This refers to the optional Received Timesheets box in Edit Timesheets. If you place a checkmark here, only Timesheets marked as Received transfer.

Un-Paid TS Only

Checked by default to ensure you don't double pay a Caregiver. When you create Timesheets or Bills, the Timesheets for those people are marked as paid in Edit Timesheets.

Select Individual Timesheets

Allows you to select one or a handful of individuals to send Timesheets (or bills) to QuickBooks. Use the control and shift keys to select multiples.

Class Filter

Allows you to filter the list of Caregivers by Class.

Disable Auditing

This is used for troubleshooting by Generations support technicians.
Steps
Open the Generations Interface for QuickBooks and then the Transfer Timesheets to QuickBooks screen.
Select the pay period you want to work with. Use your shift and control keys to work with more than one week at a time. The "allocated" column simply means that the Timesheets in Generations have been created for that time period.
Select other options as desired.
Click Transfer to QuickBooks.
Generations audits and compares
information in Generations to that in QuickBooks to ensure your data is valid. If there is any discrepancy, the transfer will not occur until the discrepancy has been resolved. You will get a pop-up window during transfer to resolve the discrepancy; you can click "Cancel" and a report is created so you can easily review and resolve these. Generations checks the following items:

All Caregivers who worked during the selected time period are linked to a valid Caregiver (employee or vendor) in QuickBooks.
Payroll Items utilized during the selected time period are entered in QuickBooks and that the rates match.

Data for payroll is transferred to QuickBooks, and Timesheets for employees (or bills for vendors) are created. Timesheets in Generations for the pay period are marked as Paid. Review the data in QuickBooks and process according to your agency's procedures.
---
Was this article helpful?
---
What's Next