Referral Management
19 May 2022

2 Minutes to read
Referral Management
Updated on 19 May 2022

2 Minutes to read
---
In the broadest sense, a referral source is anyone who refers someone to you—an organization, a case manager, a physician, a current Client, a current Caregiver—any of these are referral sources. The referral sources area of Generations helps you manage your referral sources.
Referrals can also be assigned to a Location.
Run a Gross Profit Report by Referral Source to see where your most profitable referrals are obtained.
As a best practice, do not send any electronic messages (including emails, text messages, and reports) that contain identifiable Client information like full name, address, phone, date of birth, etc. This Client information can easily be hidden from Caregivers when they use the App or Web Portal; see controls in Company Settings > Web Portal.
Video
Watch a video about Referral Sources.
Referral Management
If your marketer has the app on their mobile device or an internet-capable laptop in the field, they can quickly make updates after an appointment or record information regarding a new potential client, without ever having to come back into the office. There are key points to help your agency work smarter with Referral Sources:
Status Detail: Traditionally used as active/inactive, you could also use this to identify which salesperson is responsible for specific accounts.
Type is used to indicate the category of referral. For example: social worker, retirement center, rehab center, hospital, church, radio ad, and so on. This is especially helpful if you want to determine what "type" of referral gives the best return via the Gross Profit Report.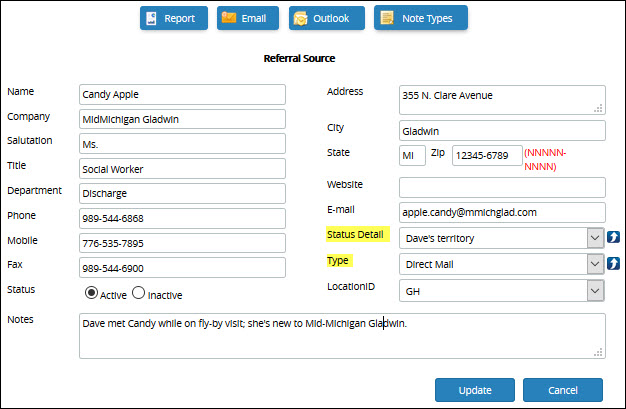 Activities
Each Referral Source has a dedicated place for activities (also known as Notes.) You can add, edit, and audit activities. Additionally, if you add a Note for a Referral Source in the Call Center, it is automatically copied to the correct Referral Source. Read more about functionality in the Call Center Overview. You can also see how many activities there have been in the Marketing section of the Dashboard.
Note Types work exactly like they do for Clients and Caregivers, and they also work automatically with the Call Center.

Referral Mapping and Routing
You can also create maps and routes from the Home Screen. Please refer to Mapping and Routing Overview for details.
Sales Rep
The Sales Rep field on the Client Personal Data Screen is driven by a Sales Rep Master List. The Sales Rep is associated with both the Sales Rep by Client and Gross Profit reports.
Reports and Letters
There are several reports you can run to help you with Referral Management.
Clients > Referral Source Directory
Clients > Referrals By Date
Clients > Sales Rep by Client
Billing > Gross Profit Report showing Referral Source or Referral Type
Dashboard > My Company At A Glance and Marketing sections
Mailing Labels/Badges > Referral Mailing Labels
Create letters, labels, and emails using the Letter Writer for Referral Sources.
Use Report Writer to create and save custom reports.
---
Was this article helpful?
---
---
What's Next