Scheduling Basics
21 Sep 2023

10 Minutes to read
Scheduling Basics
Updated on 21 Sep 2023

10 Minutes to read
---
Share feedback
Thanks for sharing your feedback!
The scheduling views share many of the same buttons, toolbars, display options, filters, and more.
Video
Watch a video about the different scheduling views.
Watch a video about Client Notes and Visit Notes.
Learn about auditing a schedule and other audit trails.
Watch a video about schedule alerts.
Schedule Views
There are four ways to view schedule information: Day, Grid, Month, and Week. A change in one view is automatically reflected in all other views.
Day
The Day view displays 24-hours of shifts that allows drag and drop editing. For example, to extend a shift, drag the end of the shift to the right. Hold your mouse over a shift to read details.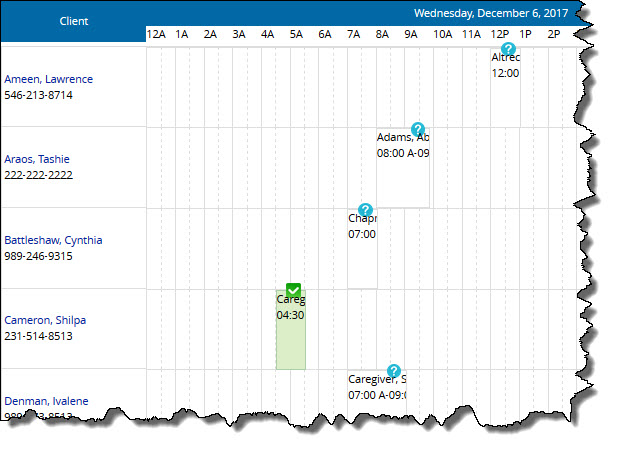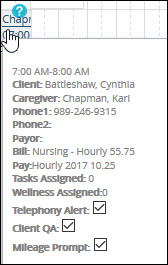 Grid
The Grid shows today's shifts in a "one line equals one shift" format. Filter to show additional days as needed.
The Grid is an excellent choice if you need to add a shift in quickly for later in the day, or make a change to an existing shift.
You can also quickly confirm shifts on the Grid.

The Grid has slightly different buttons, but functionality is the same: you can add, edit, etc. in the Grid view, just like other areas.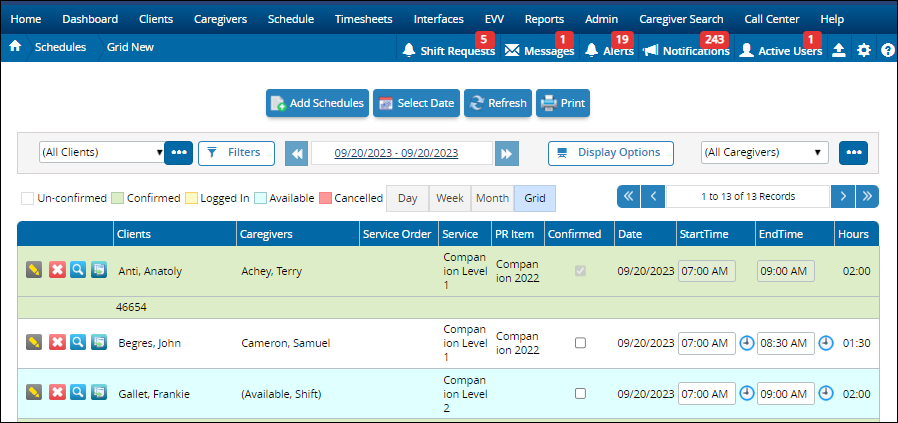 Buttons are a little different on the Grid than in other areas.
Add Schedules: Opens add schedule.
Select Date: Used to pick one day.
Refresh: Updates the display with any changes made by colleagues.
Print: An option to print the schedules.
Yellow Pencil: Click to edit an item.
Red X: Click to delete an item.
Magnifying Glass: Click to audit to see who first created and who most recently updated an item.
Paper: Click to copy the selected schedule.
Month
The Month view is used to work with multiple and long-term schedules for one Client or Caregiver at a time; select the person to work with from either the Client or Caregiver lists. If you select a date other than today to work on, today's date is highlighted pale yellow.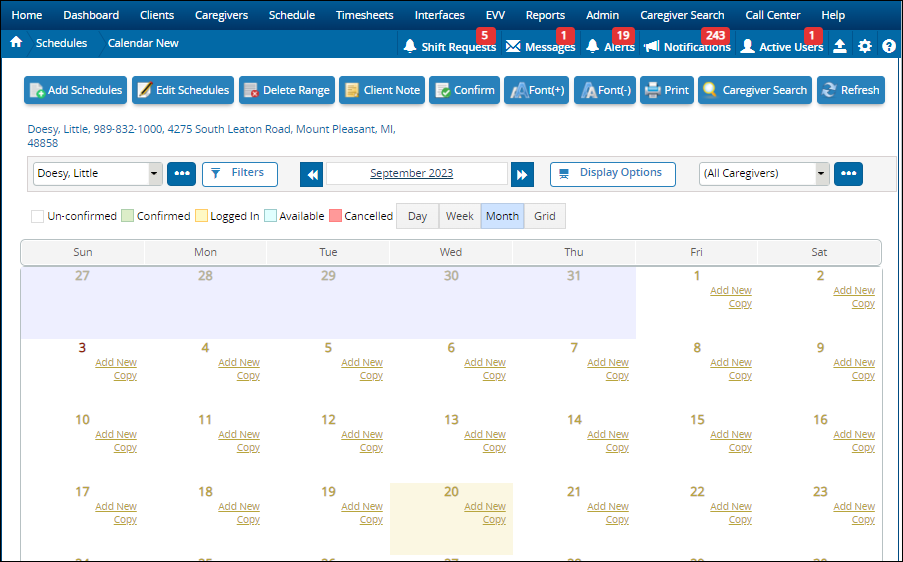 Week
The Week view shows all shifts happening over the next seven (7) days. In the example above, the Clients appear vertically to the left, and the schedules for that Client are horizontally to the right of the Clients' name.
See the Caregiver perspective by clicking "Display Options" and selecting "Caregiver View."
Also under "Display Options," you can hide clients without schedules.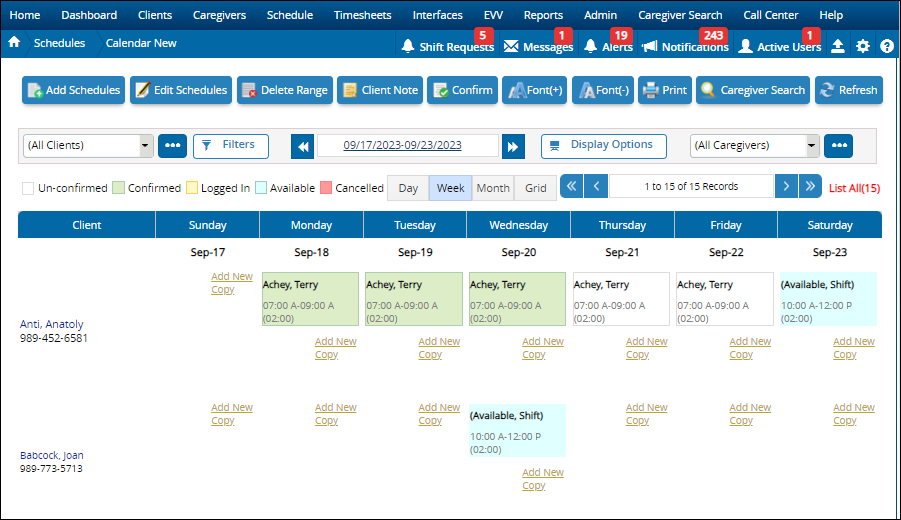 Buttons, Toolbar, Colors, Options, and Filters
These are the things you use every day in scheduling.
Buttons
These buttons are on all schedule views. The Grid has slightly different buttons, but functionality is the same: you can add, edit, etc. in the Grid view, just like other areas.

Button
Function

Add Schedules

Opens add schedules form, allowing you to add multiple and long-term schedules.

Edit Schedules

Opens edit schedules form.

Delete Range

Opens delete schedules form.

Client Note

To add a visual reminder to the Calendar with brief notes. There are two choices here: Private (Office Note) or Visit Note.

Private Notes: These add a visual reminder and brief pop-up note. There are several icons to choose from; your office can decide what the icons represent. These notes cannot be printed, saved to a Client's file, or reported upon: these notes appear only in the Scheduling area.
Visit Notes: These are notes added by a caregiver or office staff. When a Caregiver adds a Visit Note, you see a Client Note icon on the date the note was entered. To learn more about Visit Notes, please see Note Types.

Confirm

Opens confirm schedules form.

Font +

Increases calendar font.

Font -

Decreases calendar font.

Print

Prints the current calendar as displayed. Includes Auto-Grow feature to ensure inclusion of all shifts, regardless of number, on the printed calendar.

Caregiver Search

Clicking here to go to Caregiver Search.

Refresh

Refreshes display to include any work performed by co-workers.
Toolbars

All Clients: Select a Client from the list. The list also displays a count of total hours scheduled for all clients, plus total hours for individual Clients within a specific time period.
Three Dots:

When you have an individual Client or Caregiver selected, click to open their personal data page

Filters: See below for more information.
Date Range: Use the arrows to move forward or backward in time. Click to choose a specific date.
Display Options: Additional options for display. See more information below.
All Caregivers: Select a Caregiver. The list also gives a count of total hours scheduled, total hours scheduled for individual Clients within a specific time period, and available hours.
Colors: Shifts can have different colors. See below to learn more.
Day: This shows all of today's shifts and allows drag and drop shift changes.
Week: A 7-day bird's eye view of schedules.
Month: A traditional calendar view of schedules. Best for creating, editing, and deleting multiple schedules at one time.
Grid: A view where one line equals one shift. Great for a quick view, for sorting, and for manually confirming shifts.
Colors

| Color | Meaning |
| --- | --- |
| Blue Stripe | An available and continuous shift. A continuous shift in Generations is two different services back-to-back; in the example below the 9a-10a is for attendant care and the 10a-12p is for homemaking. |
| Solid Blue | An available shift. |
| Green | This shift is confirmed. |
| Green Stripe | A continuous shift that has been confirmed. |
| Grey Stripe | A continuous shift that is not confirmed. |
| Pink | A cancelled shift. |
| Stripe | A stripe on any shift - no matter what color - indicates a continuous shift. |
| White | An unconfirmed shift is white. Move your mouse over the shift, and it turns grey. |
| Yellow | The caregiver has logged into this shift. The shift is in progress. |
| Yellow Stripe | The caregiver has logged into a continuous shift. The shift is in progress. |
Display Options
Additional options for things that can be displayed.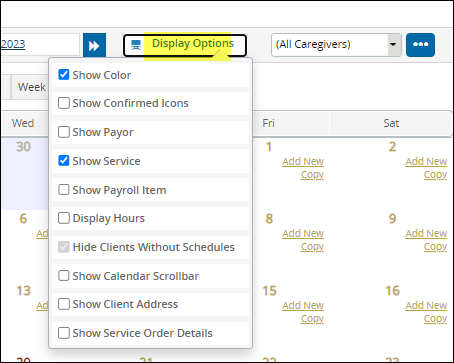 Show Color: Adds color to schedules as described above, and to any currently being worked on by co-workers. If unchecked, the color options do not display.
Show Confirmed Icons: Shows a blue question mark on Available shifts and a green checkmark on Confirmed shifts.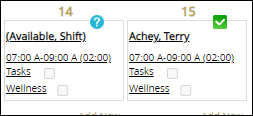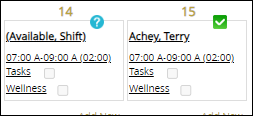 Show Payor: Displays Payor information for all shifts.
Show Service: Shows the Service Code short description for all shifts.
Show Payroll Item: Shows the Payroll Item for all schedules.
Display Hours:Shows the daily/weekly hours and counts on the schedule. Tips:

In Admin > Company Settings > Calendar Options, make sure that "show entire pay period ending weeks in the month" is selected.
After you put a checkmark here, always click refresh to update the display.
Flat rate items show as hours. For example, if a flat rate is 9a-11a, you see 2 hours.
This does not consider a split shifts at midnight, overnights, or any Timesheet setting. This is strictly a count of shift on the day and shifts for the week.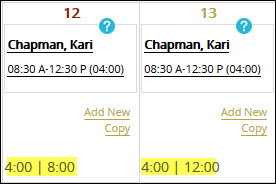 Hide Clients Without Schedules: This only works on the Weekly schedule view.
Show Calendar Scrollbar: Adds a scrollbar to the right of the calendar so you can scroll the calendar instead of scrolling the entire page. This can be useful if you have a client with a particularly complicated schedule.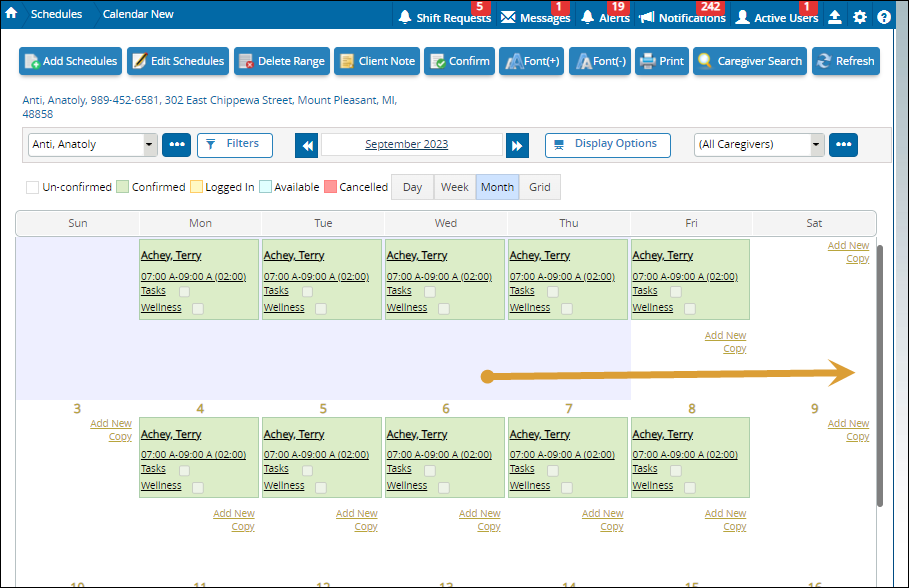 Show Client Address: For Week view only. Displays the client's address near the name of the Client.
Show Service Order Details: Shows show Service Order details at the top of the various scheduling screen. Click Display Options, and the select show service order details. For Day and Weekly views, select one client first.

If there is a Service Order Violation, a red icon displays on the individual shift. Hover over the alert icon and view the Exceeded Units or click the link, to view the Service Order Validation Rule Summary report.

Group By Client or Caregiver View: This is only available in the Week view of schedules. Select one and the display changes.
Filters
Filters to display only those items selected. Make a selection and click OK.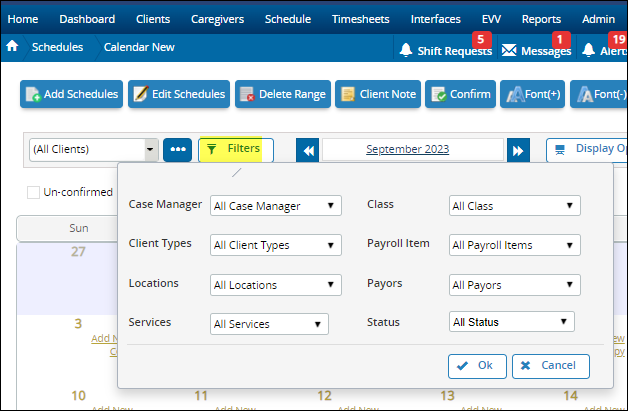 Alerts
Anytime a schedule is created or updated, Generations performs extensive conflict checking. Generations alerts you if there is a potential problem via an alert. The Schedule Conflict Report: identifies schedules that have overlapping shifts, Service Order conflicts, Exclusions, Interruptions of Service, Scheduled Absences, and availability.
Alert
The Alert Warns You About

Caregiver Double-Booking

Caregiver is scheduled two places at the same time.

City Minimum Wage

(Optional) Requires the use of the City Minimum Wage Master List. When scheduling, Generations compares the city in which the Client lives to the wage assigned to the Caregiver. If the wage is below the specified City Minimum Wage, you are alerted.

Client Double-Booking

More than one Caregiver is scheduled at the same Client during the same time.

Exclusion

The Caregiver is on the Clients exclusion list.

FTE Alert

Alerts if the shift will exceed the allowed Full Time Equivalent hours. Learn more about ACA tools.

Overtime Alert

Alerts you if the Caregiver's schedule exceeds the limits established in Company Settings on the Other Options tab. Additionally, if your Caregivers are Independent Contractors, you will not receive an alert if they exceed the overtime limits.

Unavailable Alert

Occurs when you attempt to schedule a Caregiver during a time they are not available. This is established in the Caregiver's Unavailable tab.

Inactive Payroll Item or Service Code

Occurs only when copying, and alerts you that copy is disabled because one or more schedule has inactive items.

Interruption of Service

When your schedule occurs during a time your Client has an Interruption of Service.

Needs and Attributes

(Optional) You can be alerted if the Attributes of the Caregiver do not match the Needs of the Client. Turn this alert on in Company Settings on the Calendar Options tab.

Scheduled Absence

Occurs when your schedule falls on a day or time the Caregiver is scheduled to be absent.

Service Order Date Validation

Alerts when the proposed schedule exceeds the allowed date range on a Service Order.

Service Order Validation Rules

Occurs when you exceed the number of hours or dollar amount allowed. Validation rules are established by setting up a Service Order for your Client.

Tasks Not Assigned

This alert is dependent upon two things:

if Tasks are assigned in the Client's Plan of Care, and
if "Require tasks on new schedules" is checked.

When you attempt to add a schedule that does not have Tasks assigned, you are alerted.

Travel Time

Alerts you if a schedule would cause the Caregiver to have Travel Time.
What Do Alerts Look Like?
Alerts appear when there is a conflict with a proposed schedule. A typical alert looks like this:

There are 10 conflicts with the proposed schedule. 5 of the conflicts are because there are overlapping shifts; 5 conflicts are because the Caregiver has another visit scheduled during that time. With each alert, you can:
view a conflict report with more details regarding the issues,
ignore the conflicts and add the schedule anyway, or
cancel from the proposed schedule.
Client and Caregiver Alert Notes
Add alerts specific to a Client or Caregiver in their personal data screen.
The alert note appears in Scheduling; for example, if you add or edit a schedule you see the alert note.
To remove an alert, remove the text and checkmarks.

Other Options
There are a few additional things you can do in schedules.
Hover

When viewing a schedule, hold mouse over person's name.
In the Grid view, you see phone numbers, Service Code, and Payroll Item.
On the Month view, you see phone, plus Service Code and Payroll Item.
Bill and pay rates can be hidden in Admin >Company Settings > Security.
To hide payroll rates, remove the user from the Payroll Items and Rates group.
To hide billing rates, remove the user from the Service and Service Orders group.
Doing this will hide the rates, and the user can continue working in schedules as needed.
Show Shift Hours
If you would like to see the total hours that a shift has on the Month and Grid, go to Admin > Company Settings, Calendar Options and place a checkmark in the "Show hours on scheduling Grid and Calendar box."

Caregiver Unavailability
When you select an individual Caregiver, their Unavailable times display in bold red print on the Month and Week view.

Absence or Interruption of Service
Both of these items add a colored bar to the Month view of the particular individual.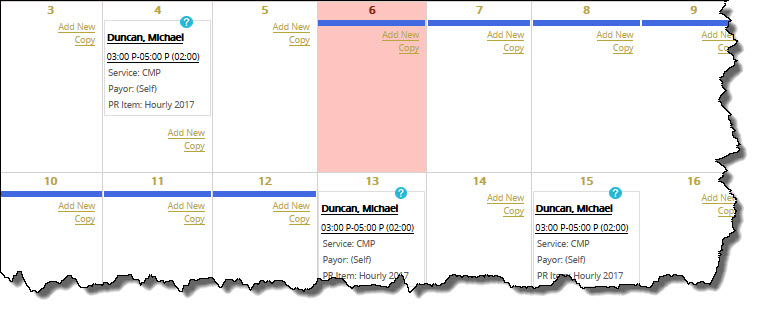 Reports
Watch a video about scheduling reports.
| Report Name | Description |
| --- | --- |
| Available Shifts Request | Lists all available shift requests. |
| Available Shifts Grouped by Date or Client | Use to find all open shifts for a specific date or range of days |
| Calendar Reports | Prints calendars from Client or Caregiver perspectives. |
| Cancelled Shifts | Schedules by date with cancelled shifts. |
| Mini–Schedules | Shows a condensed view of a Client or Caregiver schedule within a specified period of time. |
| Charting Report | Report on Care and Wound Notes. |
| Completed Schedules and Tasks | Schedules with Task status, EVV logins, and signatures. |
| Confirmed Shifts | Lists all confirmed shifts grouped by Client. |
| Manual Exceptions Report | Report on EVV Exceptions. |
| Other Expenses Report by Caregiver | Lists Other Expenses as entered on schedule form. |
| Schedule Break Report | Scheduled breaks including caregiver notes and verification status. |
| Schedule Conflicts Report | Identifies schedules that have conflicts. |
| Scheduled Overtime Hours | Displays which Caregivers have overtime in their schedules |
| Scheduled Service Ending | Use to identify schedules in the system that may need to be extended. |
| Scheduled Task Report | Schedules with Tasks to be completed. |
| Scheduled vs. Confirmed Times | Displays scheduled vs. confirmed times for each shift. |
| Schedules by Date | Sorted by date, start time, and Caregiver. |
| Schedules Missing Timesheets | List of confirmed schedules that do not have a Timesheet record. |
| Screening Report | Results for screening of caregivers prior to working. |
| Unconfirmed Shifts | Find all the shifts that have not been confirmed. Use before processing your payroll and billing. |
| Virginia Medicaid DMAS-90 | DMAS-90 provider aide record required by Virginia Medicaid. |
| Weekly Schedules Report | Lists schedules for all Clients or all Caregivers going forward for any seven day period. |
| Wellness Report | Lists all wellness questions associated with schedules grouped by clients and dates. |
---
Was this article helpful?
---
---
What's Next