Tasks Overview
02 Jan 2023

1 Minute to read
Tasks Overview
Updated on 02 Jan 2023

1 Minute to read
---
Tasks are specific things that the Caregiver performs while working with the Client; for example, prepare breakfast, shower assist, take to appointment, sweep floor, change bed linens, and so on.
When Tasks are added to a Schedule, they work automatically with Generations EVV.
When the Caregiver logs into a shift, they receive a list of tasks to perform; when they log out, they indicate which tasks were performed.
If a required Tasks is not completed during logout, the agency receives a Task Alert in EVV Schedules; the agency can also require a note for required Tasks not completed.
With Time and Task Signatures (TTS) both Caregiver and Client can sign for the shift.
Tasks can be used without Generations EVV; for example, when a Caregiver logs into the app or web portal to look at their schedule, they can complete tasks. Likewise, tasks can be manually updated by office staff. Some things like the Task Alert and Time & Task Signatures do not work without Generations EVV.
Videos
Watch a training video about Tasks.
Watch a 32-minute Spotlight Session webinar from 2020 about Tasks and Wellness. Download the slides.
NOTE
To quickly determine if Tasks are completed, go to Admin > Company Settings > Calendar Options and add a checkmark to "Show Task Completed Status." A box is displayed on the monthly view of schedules; when all Tasks are completed there is a checkmark in that box.
Tasks Steps
These items and more are discussed in detail in the Working With Tasks topic.
Complete the Task Categories Master List and the Task Master List. If you use a state-specific EVV interface, we add state-required tasks for you.
(Optional) Add Tasks to the Plan of Care so you can quickly copy Tasks onto schedules.
Tasks on Schedules.
Caregivers complete Tasks and (optional) add Task Note for items not completed.
Review Tasks on Schedules and/or EVV Schedules.
Reporting.
Data Flow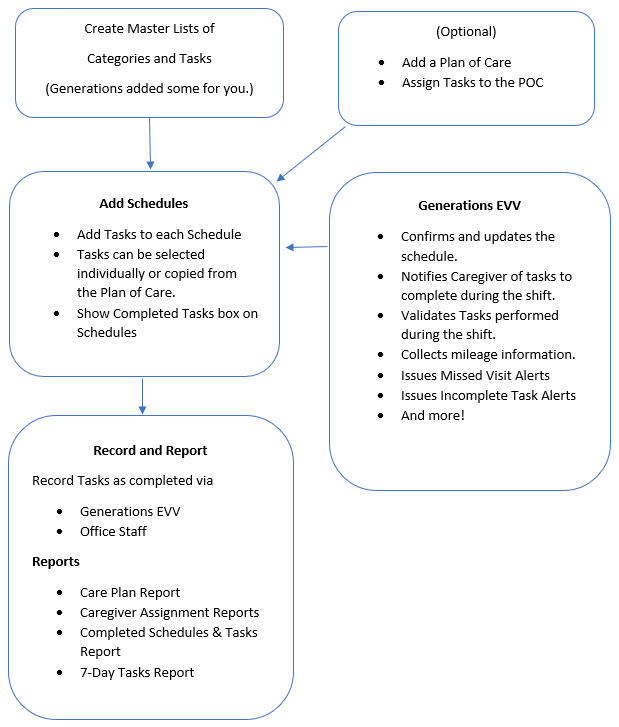 ---
Was this article helpful?
---
---
What's Next